National parks, road trips and Airbnb staycations are top fall travel plans in 2020. Here's how it's impacting local travel and tourism businesses, towns and community residents.
Travel and tourism have taken a serious blow because of COVD-19; the pandemic has brought travel to a near standstill. By the end of this year, it's estimated that the U.S. travel and tourism industry will have lost $505 billion dollars, and those losses won't be recovered until 2024. The industry has now entered what The Travel U.S. Association has called, "The Great Travel Recession."
Are Americans going to travel again? Yes. According to a recent study from Longwoods International found that 82% of travelers have changed to trips they felt were safer within their local geographic regions. As stay-at-home orders lifted and states reopened, many U.S. residents have started to travel again.
What Does Domestic Travel Look Like for U.S. Residents?
Most travelers are sticking within 100 miles of where they live. Their sights are set on national parks and local vacation spots where they book longer stays at rental properties. According to the U.S. Travel Association, the limited range is largely due to weariness about catching and spreading the virus, and the uncertainty of what's happening in the second wave of the outbreak.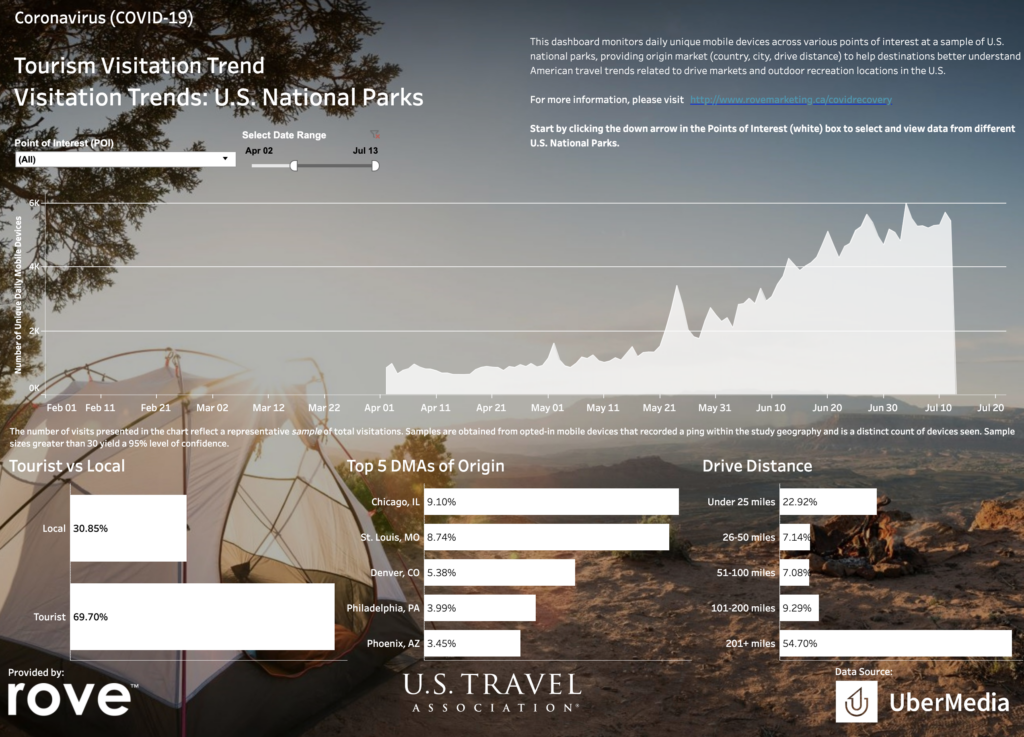 Check out the ROVE Dashboard
Are Summer Road Trips During COVID-19 Safe?
According to the Centers for Disease Control, any kind of travel is high-risk, and they're asking people to stay home. "COVID-19 cases and deaths have been reported in all 50 states, and the situation is constantly changing," the CDC's website cautions. "Because travel increases your chances of getting infected and spreading COVID-19, staying home is the best way to protect yourself and others from getting sick."
Even with the warnings, people are traveling. According to CNN, ultralong trips (those over 500 miles) is one third of what it was last year, but 32.2 million people have taken trips within a 100 miles of their home bases since April. Because the virus doesn't spread as well outdoors, national parks seem like convenient escapes.
According to Bloomberg, RV sales are up, and Airbnb has seen a boom in vacation rentals. A survey by Kampgrounds of America showed nearly half of travelers who canceled travel plans due to COVID-19 have decided to camp instead, and 41 percent of campers said they were following through on planned trips.
How Have Travel Patterns Impacted National Parks?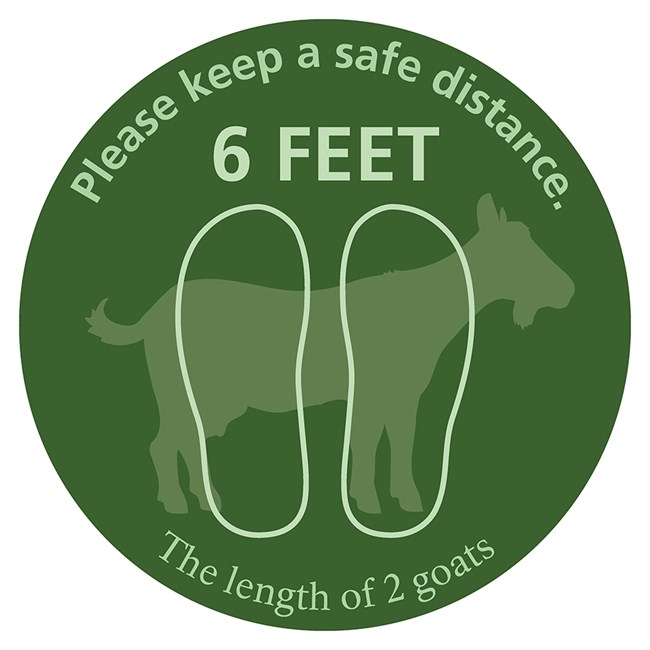 Many, not all, national parks opened or partially opened their doors for Memorial Day Weekend. By August 1, 2020, all 62 parks will be open, with expectations that many will have no camping or access to amenities. Before the coronavirus, 327 million people visited national parks each year. Despite warnings from the CDC and a National Park Service campaign dissuading would-be park goers, people are still flocking to public sites after being under stay-at-home orders for so long. And while people are getting out, the initial news doesn't look good for parks.
Visitors to local, state, and national parks have been defecating, leaving trash, and destroying natural habitats. In California, certain trails and locations have been shut down by the U.S. Forest Service because the environmental damage is too great. As of this week, wastewater in Mariposa County, where Yosemite is located, also tested positive for COVID-19 ( possibly attributed to the increase in park visitors). Wastewater and water testing are gaining traction in coronavirus testing and contract tracing efforts, and depending on what happens with Yosemite, it could affect policies and impact potential re-closures of all 62 parks.
The National Park Service has produced a series of posters suited to stay-at-home orders.(National Park Service)
How Do Locations that Are Open for Visitors Feel About Travelers?
While many people are wary of travel and opting to stay home, those that are venturing out are taking precautions when they travel to stay socially distant from other travelers. In the places that they visit, many local residents and businesses are apprehensive about visitor presence because of the possibility of bringing COVID-19 to their towns. In fact, more than three-quarters (77%) destination residents support states enacting mandatory 14-day quarantines for out-of-state travelers from states with a high resurgence of COVID-19.
Small, rural and indigenous communities are becoming more and weary of visitors because of the damage being caused to local habits and because of the increase of COVD-19 cases in their communities. The Navajo and Blackfeet nations are also reporting tensions with visitors because of out-of-town visitors refusing to follow the safety protocols they've put in place; some of this tension also comes from racial tension. New Mexico recently closed all of its state parks to out-of-town visitors because of a variety of these reasons (national parks in New Mexico managed by NPS remain open, but visitors can only gain access after quarantining for 14 days).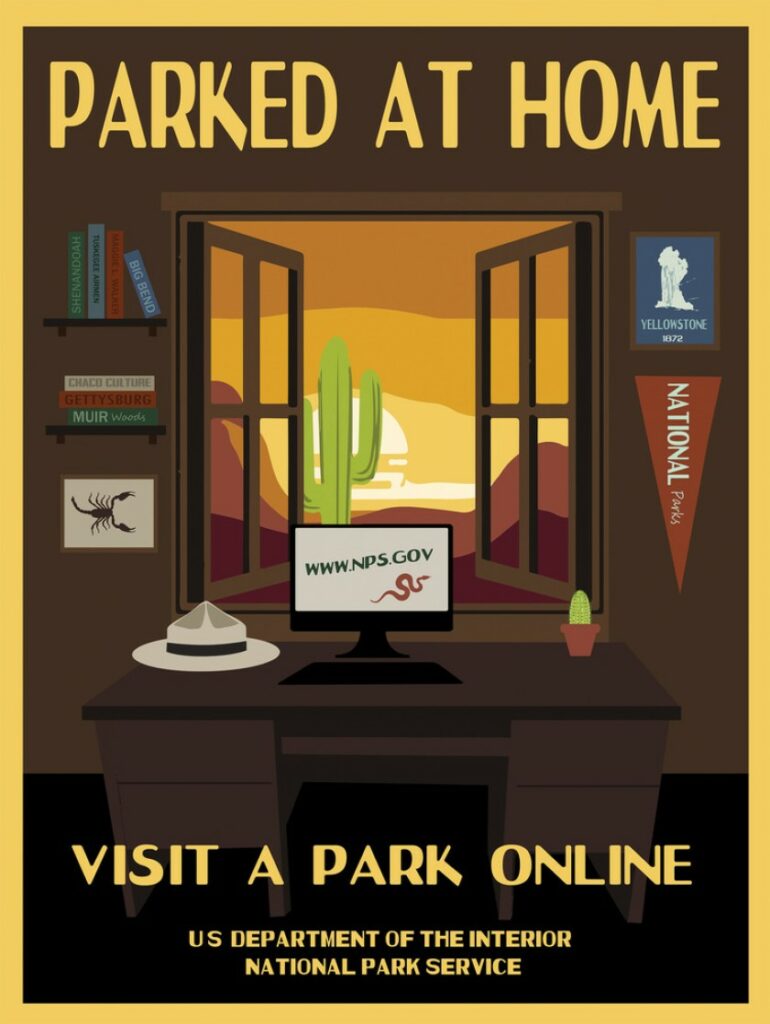 "Part of re-opening and recovery means that destinations, attractions, hotels, airlines, etc. will need to demonstrate to potential visitors that they are doing everything they can to minimize the risk as they travel to and once they are in the destination by following best practices. They will also need to demonstrate to the local residents, who may be wary, who are asking visitors to 'play by the rules."

– Amir Eylon, chief executive of tourism-focused consultancy Longwoods International, Washington Post
What's Happening in Tennessee?
The Great Smoky Mountains National Park is the most visited national park in the country (before COVID-19, the park saw 12.5 million visitors last year). The Smokies, spanning the border of Tennessee and North Carolina, are easily accessible by car and offer experiences for all ages and abilities. Visitor centers are open, including the favorites at Clingmans Dome and Cades Cove, but most of the park's campgrounds remain closed. Trails and backcountry campsites are open with reduced capacity limits. LeConte Lodge, Sugarlands Riding Stables, Cades Cove Riding Stables, Cades Cove Campstore, and Smokemont Riding Stables are open. Smoky Mountain Riding Stables will remain closed. Those wishing to hike with the Friends of the Smokies must provide their own transportation. You can find the latest updates here.
How Should National Parks and Outdoor Recreation Facilities Take Precautions?
Safety is first and foremost. Following and adhering to the CDC and federal guidelines is something all parks and outdoor destinations should strive to do first. Don't be afraid to: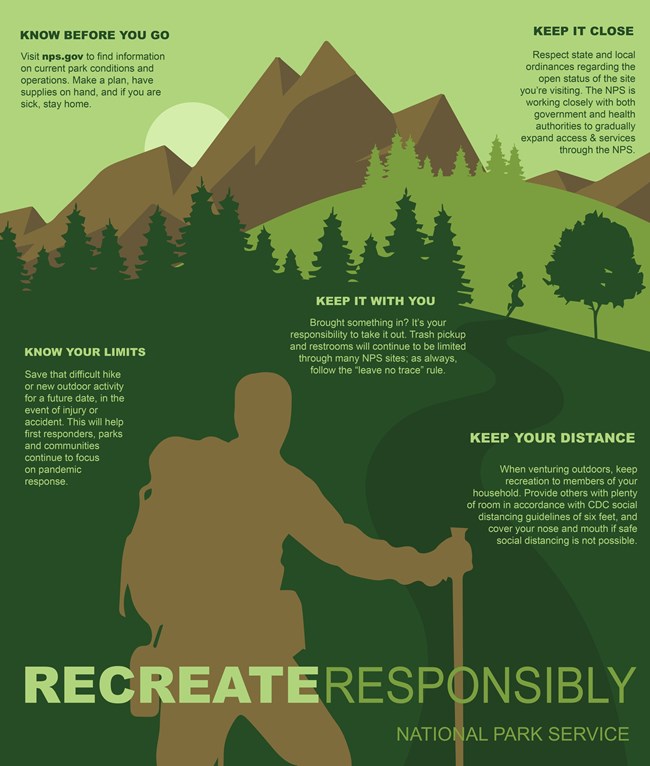 Educate visitors about social distancing restrictions.
Post rules and regulations about cleaning up after themselves. Everyone should understand what Leave No Trace means.
Post information about staying on trails and designated paths to avoid hurting habitats.
Use your digital channels to share rules, restrictions and awareness messages.
Stagger or restrict the number of visitors at any given time (if you can).
Don't be afraid to enforce regulations. They've been updated to include COVID-19 requirements.
It's important for your parks and activities to remain safe places for people to visit; it's also important for your town, staff and local businesses to be safe as well. Continually check with the National Park Service, the CDC, and local health organizations to make informed decisions that help keep everyone safe during the COVID-19 crisis. We all have to #RecreateResponsibly!
What's Coming Next For National Parks
Yesterday, Congress made a historic investment in our public lands by passing the Great American Outdoors Act (GAOA). The bill will permanently fund the Land and Water Conservation Fund (LWCF) and inaugurate the National Parks and Public Lands Legacy Restoration Fund, which will support deferred maintenance and repairs to national parks and forests.
Yes, you read that right, Congress can't take money away from the Land and Water Conservation Fund ever again. The bill specifically says that "any amounts deposited in the fund…shall be made…to carry out the purposes of the fund." The funding for parks and forests is PERMANENT. The bill passed successfully with opposition from a few public lands councils.
The Great American Outdoors Act covers both national parks and more local, city centric parks. The legislation will create over 100,000 direct and indirect jobs in park maintenance and operations, wildlife habitat restoration, recreation, tourism and outdoor retail. It also provides greater access to park visitors who want to fish, hike, horseback ride, and simply enjoy being outside.