Tourism is an attractive characteristic for communities small and large alike.
Whether your store is nestled in a quiet town that attracts tourists only certain times a year or you are located in a bustling tourist area that welcomes out-of-town visitors all year round, there is no denying that tourism can help retail businesses in reaching their daily, monthly and annual sales goals. The reality is, however, you aren't the only retail store in town looking to capture tourist dollars and as a result, you need to make sure your store is positioned to be among the most well respected and frequently visited to ensure your retail business thrives from tourist spending. To help, consider the following.
Combine Convenience & Specialty Items Within Your Store Assortment
Having an understanding of your local tourist market can help you better support customers weaving in and out of your store. If you're located within a beach community, for example, having sunscreen, lip balm and cold, grab-and-go refreshments is a great way to bring in quick revenue to your business. These convenience focused items should complement your store's specialty items, such as name-drop merchandise that may include beach towels, hats and bathing suit cover ups that all represent your local tourist destination. Collectively, this assortment of inventory will help shape a stronger in-store experience for your customers – delivering both ease and enjoyment to their shopping.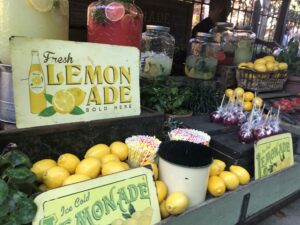 Provide In-Store Experiences That Cater to Tourists Creating Memories
Want to really make sure you bring customers into your tourist based business? Give them experiences that they'll remember… and also brag about. This extended visibility can help your store gain repeated attention while also gaining a reputation as being somewhere tourists need to go when they are in your tourist community. Among the ways to do this include the following:
Create a dynamic selfie station. Go above and beyond just hanging a selfie sign up and instead encourage store guests to take a selfie in your store by creating a space they will want to engage with. This space should represent your tourist community and then offer props and interactive ways for your guests to get engaged. Identify hashtags for them to use and share when posting on their social media pages, as well as clearly state your social media handles for them to tag your store on, as well. These combined efforts will help you reach other potential store visitors through their social shares while also extending your opportunity to repost and interact with customers who have visited your store.
Offer treats that compliment your tourist area. Everyone loves a taste of something that represents where they are. Whether it's a virgin Pina Colada for beachside tourist destinations or a sampling of chocolate made in your local community – and sold in your store – offering your guests a taste of something is a great way to get them engaged in your retail environment. You can create this as an experience that happens all day long or you can limit it to a certain time of day – such as a daily happy hour that you promote all year long – which will offer a sure-proof way to gain more foot traffic into your retail business.
Host special events based on other tourist events taking place. If your community has select activities or special events throughout the year, be sure your retail establishment does, as well. Leverage online marketing and local marketing alike – including outreach to local hotels and other tourist destinations – to promote your events and help be a part of the celebrations taking place within your community. Don't forget to merchandise your inventory according to these events, as well, and incorporate special, name-drop merchandise to support these one-of-a-kind experiences.
Finally, retailers who are successful at capturing tourist dollars are aware of their local travel trends and the visitors that tend to frequent their tourist destination most often. This clarity helps these same merchants cater to their buying preferences – including what they want to spend their money on. Do they want to treat themselves to a souvenir or are they more likely to buy something for someone they love waiting for them at home… or both? Aim to understand your tourist demographics to engage them not only in your store through experiences but also with the right inventory assortment. Discover more about tourist based inventory at the upcoming IGES in Tennessee. Click here to learn more.
—
Author: Nicole Leinbach Reyhle, Retail Minded